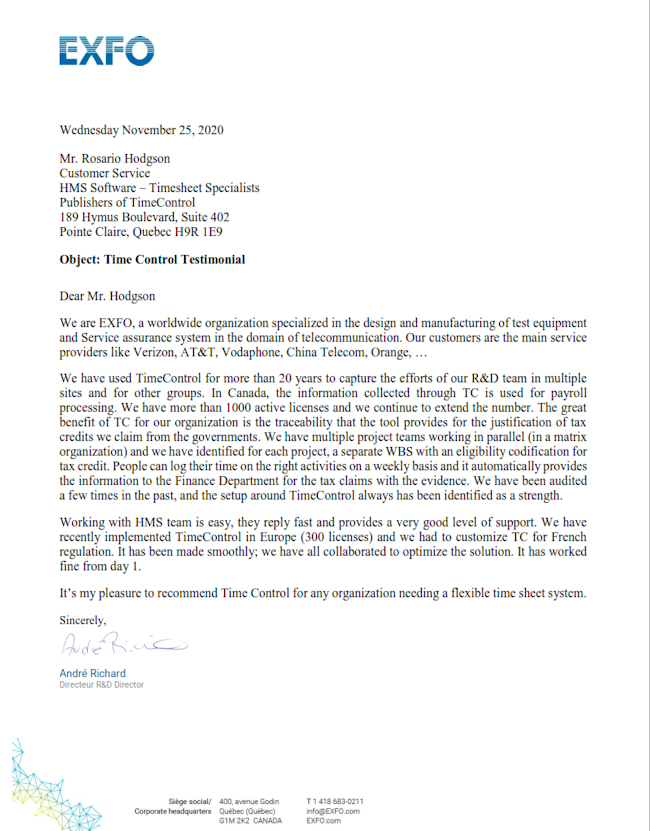 ---
EXFO
November 25, 2020.
Dear Mr. Hodgson
We are EXFO, a worldwide organization specialized in the design and manufacturing of test equipment and Service assurance system in the domain of telecommunication. Our customers are the main service providers like Verizon, AT&T, Vodaphone, China Telecom, Orange, …
We have used TimeControl for more than 20 years to capture the efforts of our R&D team in multiple sites and for other groups. In Canada, the information collected through TC is used for payroll processing. We have more than 1000 active licenses and we continue to extend the number. The great benefit of TC for our organization is the traceability that the tool provides for the justification of tax credits we claim from the governments. We have multiple project teams working in parallel (in a matrix organization) and we have identified for each project, a separate WBS with an eligibility codification for tax credit. People can log their time on the right activities on a weekly basis and it automatically provides the information to the Finance Department for the tax claims with the evidence. We have been audited a few times in the past, and the setup around TimeControl always has been identified as a strength.
Working with HMS team is easy, they reply fast and provides a very good level of support. We have recently implemented TimeControl in Europe (300 licenses) and we had to customize TC for French regulation. It has been made smoothly; we have all collaborated to optimize the solution. It has worked fine from day 1.
It's my pleasure to recommend Time Control for any organization needing a flexible time sheet system.
Sincerely,
André Richard
Directeur R&D Director
EXFO
Siège Social/ Corporate Headquarters
400, ave Godin
Québec (Québec)
G1M 2K2 CANADA
T 1418 683-0211
exfo.com