HMS Software named Gold Certified Partner by Microsoft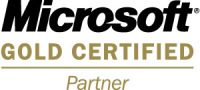 HMS Software now at the elite level of Microsoft's extensive partner program
Montreal, Quebec May 9, 2005 - HMS Software, a leading provider of project management and enterprise timesheet solutions, has been named a "Gold Certified Partner" by Microsoft Corporation. This partner level is reserved for companies who have demonstrated that they have proven expertise in multiple Microsoft technical disciplines. Only a small fraction of the thousands of Microsoft partners are included in the elite Gold Certified level
"This is an exciting time for HMS," says Chris Vandersluis, president of HMS Software. "We have had a relationship with Microsoft since the mid-90's but never expected that we would be named one day to their most prestigious partner community.
"HMS started working with Microsoft as a part of the Microsoft Project Solution Provider Program in 1995. Our expertise in project management and enterprise systems is what we specialize in."
Only a small fraction of Microsoft's tens of thousands of partners are ever elevated to Gold Certified status.
"We're delighted about HMS Software's move to Gold Certified Partner status," says Michael Anguilo, General Manager Microsoft Project, at Microsoft's Redmond Headquarters. "To qualify for this level, a partner must have demonstrated not only a technical knowledge of Microsoft's systems through the Partner qualification process but must have proven delivery of that knowledge with clients in the field. We're particularly happy that we can acknowledge HMS Software's technical expertise in this way."
HMS Software Gold Certification was based on achieving two of Microsoft's technical competencies: Information Worker and Independent Software Vendor.
For the ISV competency, HMS put its TimeControl product through independent testing by Veritest to ensure it was certified to work properly with Windows Server and Client operating system. For the Information Worker Competency, HMS had to demonstrate delivery of its enterprise project management and enterprise timesheet systems working with Microsoft Project.
A major component of the various competency certifications is independent verification by HMS Software client references. "In becoming Gold Certified, we had 16 different client references independently verified," says Julie Benard, a Marketing Associate at HMS. "Each client had to review work done by HMS in the Microsoft technical domain and approve the reference directly to Microsoft".
HMS Software has 2 distinct solutions in the enterprise project management and timesheet software industry including TimeControl, HMS's enterprise timesheet system and implementation services for Microsoft Project and Project Server.
"Our technical staff are divided into developers and consultants," say Stephen Eyton-Jones, HMS Software's Director of Technical Services. "While training of technical personnel occurs all the time here, we've ensured that multiple members of our staff are qualified as Microsoft Certified Professionals. TimeControl was our first solution for Microsoft Project," he says. "Its unique design as an enterprise timesheet allows the system to integrate with both Microsoft Project and with an ERP or Finance system at the same time."
TimeControl has been on the market since 1984 and is in use in approximately 300 companies with over 100,000 users worldwide.
The move to Gold Certified status will open more doors for HMS in the Microsoft organization.
"We're already working intensively with Microsoft personnel in Canada, the US and Europe as well as with people at Microsoft Headquarters in Redmond, Washington," explains Vandersluis. "The move of HMS to Gold Certified status allows Microsoft to acknowledge HMS Software's capabilities much more publicly. This should help both our firms work closer together."
---
About Microsoft
Founded in 1975, Microsoft (Nasdaq "MSFT") is the worldwide leader in software, services and Internet technologies for personal and business computing. The company offers a wide range of products and services designed to empower people through great software -- any time, any place and on any device. Microsoft and MSN are either registered trademarks or trademarks of Microsoft Corp. in the United States and/or other countries. The names of actual companies and products mentioned herein may be the trademarks of their respective owners. For more information about Microsoft Project visit www.microsoft.com/project.
About TimeControl
TimeControl was originally released in 1994. It was immediately successful in the project management sector and today is recognized not only as a project management solution, but also as an enterprise timesheet solution in use by companies worldwide. TimeControl is designed as a multipurpose timesheet able to serve the needs of both Finance and Project Management simultaneously. It includes features such as a multi-browser, multi-device interface, a PC and mobile interface, vacation approvals, executive dashboards, extensive approval functionality, flexible reporting and links to project management and corporate systems which makes the timesheet product ideally suited for integration with existing systems in any organization. TimeControl's flexibility allows it to be deployed for use as a time and attendance, time and billing, project tracking and flex-time system. TimeControl is available both for purchase for an on-premises installation or as an on-line subscription in the Cloud.
To access the free Hosted TimeControl Trial site, visit our free trial page.
For more information about TimeControl, monitor the TimeControl blog at http://blog.timecontrol.org/ or the TimeControl website at www.timecontrol.com.
For information about TimeControlOnline, our hosted timesheet subscription service in the cloud, go to www.timecontrol.com/features/timecontrol-online.
For any other questions, please contact HMS Software at info@hms.ca.
TimeControl is represented around the world by our distributors in Argentina, Australia, Brazil, Canada, Chile, Croatia, Czech Republic, Egypt, Finland, Ireland, Mexico, the Netherlands, New Zealand, Norway, Russia, Singapore, Sweden, Thailand, the UK, and the U.S.
About HMS Software
Based in Montreal, Canada with offices in Toronto, HMS Software has been a leading provider of project management and enterprise timesheet systems and services since 1984. HMS Software's first customized timesheet application was written in 1984. With the launch of TimeControl as a commercial application in 1994, HMS Software began servicing clients worldwide.
HMS Software's client list reads like a who's who of business. It includes Acergy, Aecon, Rio Tinto, the Atlanta Airport, the City of Montreal, the County of San Mateo, Electromotive Diesel, EXFO, FT Services, Kelly Services, Koch, Merck Frosst, the Government of Quebec, Georgia Pacific, Parker Hannifin, Rolls Royce, Sobeys, Volvo Novabus, Zimmer Inc. and hundreds of others.
For further information about HMS Software, please visit the HMS website at: www.hms.ca or contact us at info@hms.ca.
---
For Media information, reach out to HMS Software Marketing at: