HMS software celebrates 25th anniversary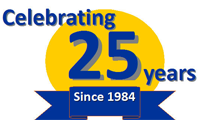 Leading provider of enterprise project and enterprise timesheet systems celebrates a quarter century serving companies worldwide
Montreal, Quebec January 26, 2009 - HMS Software, a leading provider of project management and enterprise timesheet systems, has announced that it is celebrating its 25th anniversary this year. The Montreal-based company continues to specialize in project-oriented products and services and has expanded operations this year.
"It's a remarkable milestone in the history of the company," said Chris Vandersluis, president and founder of HMS. "When we got started in 2004, we'd never have imagined a company that would have such a worldwide impact and that we'd still be here, thriving, 25 years later."
HMS has established a reputation as a supplier of enterprise project management and enterprise timesheet systems for mid to large sized organizations that has extended around the world. It has two main components to its business. The HMS services business that assists organizations in deploying enterprise project management systems and designing the organizational processes that such systems require. HMS is also the publisher of TimeControl, an enterprise timesheet system that has sold over 100,000 licenses worldwide.
"Our services business has taken us into some of the most prestigious projects and largest most complex project management organizations in Canada and the US," explains Vandersluis. "We've been involved in projects like the Hibernia offshore oil platform, the Northern James Bay Hydro development, the Ontario Nuclear upgrade project, the InterProvincial Pipeline as well as numerous defense and aerospace projects such as Canada's new Frigate program, the CF-18 upgrade, the Low-level air defense and the Light Armoured Vehicle."
It is TimeControl however, which propelled HMS into an internationally recognized publisher.
"TimeControl has been sold around the world," Vandersluis says. "We have sold TimeControl in Canada and the US of course, but also in Australia, Asia, Europe, Africa and the Middle East. There are users on virtually every continent of our system across hundreds of mid to large sized organizations."
TimeControl's success has been pinned on three main factors. First, its project orientation and the experience of HMS Software's project management based staff on linking the product to popular project systems such as Microsoft Project, Project Server, Primavera and, Deltek's Open Plan and Cobra. Secondly, the system's tremendous flexibility to adapt to the processes, the data and reporting requirements and the integration needs of almost any organizations. And, finally, the ability to deploy TimeControl remarkably quickly.
"We knew that TimeControl's links to project management tools would be a powerful advantage for us," says Vandersluis, "but it is the flexibility of the product that has been most important for organizations who have deployed TimeControl in large scale implementations. Every organization changes over time and we think this ability to adjust to whatever the organization requires is one of the reasons companies keep TimeControl on average for almost 10 years. We have clients who are on their 16th or 17th consecutive year of use with the product."
"In what is a difficult time for the worldwide economy, HMS has enjoyed another year of expansions. The company has reported growth in each of its sectors as organizations around the world look to products like TimeControl to manage their staff more effectively.
When asked about the future, Vandersluis seems bullish. "After 25 years, we've seen the economy in strong times and in challenging times. When the economy is challenging, organizations look to how to manage more effectively and that's the benefit HMS has provided since our inception. I know that only a tiny percentage of companies survive 25 years but we're looking forward to a year of growth at HMS."
---
About TimeControl
TimeControl was originally released in 1994. It was immediately successful in the project management sector and today is recognized not only as a project management solution, but also as an enterprise timesheet solution in use by companies worldwide. TimeControl is designed as a multipurpose timesheet able to serve the needs of both Finance and Project Management simultaneously. It includes features such as a multi-browser, multi-device interface, a PC and mobile interface, vacation approvals, executive dashboards, extensive approval functionality, flexible reporting and links to project management and corporate systems which makes the timesheet product ideally suited for integration with existing systems in any organization. TimeControl's flexibility allows it to be deployed for use as a time and attendance, time and billing, project tracking and flex-time system. TimeControl is available both for purchase for an on-premises installation or as an on-line subscription in the Cloud.
To access the free Hosted TimeControl Trial site, visit our free trial page.
For more information about TimeControl, monitor the TimeControl blog at http://blog.timecontrol.org/ or the TimeControl website at www.timecontrol.com.
For information about TimeControlOnline, our hosted timesheet subscription service in the cloud, go to www.timecontrol.com/features/timecontrol-online.
For any other questions, please contact HMS Software at info@hms.ca.
TimeControl is represented around the world by our distributors in Argentina, Australia, Brazil, Canada, Chile, Croatia, Czech Republic, Egypt, Finland, Ireland, Mexico, the Netherlands, New Zealand, Norway, Russia, Singapore, Sweden, Thailand, the UK, and the U.S.
About HMS Software
Based in Montreal, Canada with offices in Toronto, HMS Software has been a leading provider of project management and enterprise timesheet systems and services since 1984. HMS Software's first customized timesheet application was written in 1984. With the launch of TimeControl as a commercial application in 1994, HMS Software began servicing clients worldwide.
HMS Software's client list reads like a who's who of business. It includes Acergy, Aecon, Rio Tinto, the Atlanta Airport, the City of Montreal, the County of San Mateo, Electromotive Diesel, EXFO, FT Services, Kelly Services, Koch, Merck Frosst, the Government of Quebec, Georgia Pacific, Parker Hannifin, Rolls Royce, Sobeys, Volvo Novabus, Zimmer Inc. and hundreds of others.
For further information about HMS Software, please visit the HMS website at: www.hms.ca or contact us at info@hms.ca.
---
For Media information, reach out to HMS Software Marketing at: