HMS Software and Hard Dollar form Strategic Alliance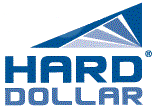 Publishers of TimeControl will team with project cost management specialists Hard Dollar to create a comprehensive project cost management solution
Montreal - Sept. 4, 2012 - HMS Software, the publishers of TimeControl, the leading multi-purpose timesheet system, has announced a new technical alliance partnership with Hard Dollar Corporation of Scottsdale, Arizona. The collaboration will allow Hard Dollar and HMS to team together to provide an integrated cost estimating, field data collection and cost control system to clients of both companies.
"We are very excited about our new alliance with Hard Dollar," explains Chris Vandersluis, President of HMS Software. "Hard Dollar is a leader in project cost management software and a highly regarded, experienced solution provider. Working together, we believe we can bring a combination of the Hard Dollar software and our TimeControl Industrial field data collection system to market as a powerful integrated solution."
TimeControl Industrial is an edition of HMS Software's popular timesheet solution that is designed for deployment in an industrial situation. It includes functionality to allow collection of a high volume of project progress data in the field including timesheet data for crews, material consumption, equipment usage and even production accomplished.
The combination of Hard Dollar's project cost management (PCM) software and TimeControl Industrial will deliver predefined project estimating and planning data directly to the field. TimeControl Industrial will be used to collect and approve the project actuals and send data back to Hard Dollar for project costing, progress measurement, earned value analysis and forecasting. Other corporate systems will also use the data provided such as payroll, invoicing and project schedule advancement.
"Integrating with best of breed systems such as TimeControl is one of the marquis functions of Hard Dollar," says Doug Nicholas, CEO of Hard Dollar. "The TimeControl field data collection system will provide our clients with additional opportunities for increased visibility, and real time cost and productivity collection for their projects. We're very much looking forward to working with the HMS team."
Both organizations have already set up technical teams to work on designing and delivering an integrated solution that combines the functionality of both systems in a seamless manner. Dates for the public availability of the integrated solution have yet to be announced.
---
About TimeControl
TimeControl was originally released in 1994. It was immediately successful in the project management sector and today is recognized not only as a project management solution, but also as an enterprise timesheet solution in use by companies worldwide. TimeControl is designed as a multipurpose timesheet able to serve the needs of both Finance and Project Management simultaneously. It includes features such as a multi-browser, multi-device interface, a PC and mobile interface, vacation approvals, executive dashboards, extensive approval functionality, flexible reporting and links to project management and corporate systems which makes the timesheet product ideally suited for integration with existing systems in any organization. TimeControl's flexibility allows it to be deployed for use as a time and attendance, time and billing, project tracking and flex-time system. TimeControl is available both for purchase for an on-premises installation or as an on-line subscription in the Cloud.
To access the free Hosted TimeControl Trial site, visit our free trial page.
For more information about TimeControl, monitor the TimeControl blog at http://blog.timecontrol.org/ or the TimeControl website at www.timecontrol.com.
For information about TimeControlOnline, our hosted timesheet subscription service in the cloud, go to www.timecontrol.com/features/timecontrol-online.
For any other questions, please contact HMS Software at info@hms.ca.
TimeControl is represented around the world by our distributors in Argentina, Australia, Brazil, Canada, Chile, Croatia, Czech Republic, Egypt, Finland, Ireland, Mexico, the Netherlands, New Zealand, Norway, Russia, Singapore, Sweden, Thailand, the UK, and the U.S.
About Hard Dollar
Founded in 1989, Hard Dollar Corporation is the category creator and leader for Project Cost Management (PCM) solutions. Over 800 contractor and owner customers worldwide within infrastructure, mining, oil & gas, STO and power and process industries utilize HD software. Hard Dollar's PCM solution centralizes project cost and productivity - connecting scope, time, progress and forecasting. Customers routinely reduce project costs by 15 percent, increase salary worker productivity up to 300 percent and maximize every hard dollar constructing over $1 trillion in capital projects. Hard Dollar solutions are sold and implemented by partners around the globe. For more information visit www.HardDollar.com or call 800.637.7496.
About HMS Software
Based in Montreal, Canada with offices in Toronto, HMS Software has been a leading provider of project management and enterprise timesheet systems and services since 1984. HMS Software's first customized timesheet application was written in 1984. With the launch of TimeControl as a commercial application in 1994, HMS Software began servicing clients worldwide.
HMS Software's client list reads like a who's who of business. It includes Acergy, Aecon, Rio Tinto, the Atlanta Airport, the City of Montreal, the County of San Mateo, Electromotive Diesel, EXFO, FT Services, Kelly Services, Koch, Merck Frosst, the Government of Quebec, Georgia Pacific, Parker Hannifin, Rolls Royce, Sobeys, Volvo Novabus, Zimmer Inc. and hundreds of others.
For further information about HMS Software, please visit the HMS website at: www.hms.ca or contact us at info@hms.ca.
---
For Media information, reach out to HMS Software Marketing at: