HMS Releases TimeControl version 6.8

Publishers of TimeControl, one of the world's most popular timesheets delivers a major release of the TimeControl timesheet system
Montreal, September 2, 2014 - HMS Software, publishers of TimeControl, the world's most flexible timesheet system has announced the appointment of QuantumPM of Denver, Colorado as a full-service TimeControl dealer.
Montreal, November 17, 2014 HMS Software, the publishers of TimeControl, the world's most flexible timesheet system announced today that it has begun shipping TimeControl version 6.8. This is a major update to the TimeControl product line with significant enhanced and new functionality.
"In this version, we are very excited to include a new module we have talked about for some time," said Chris Vandersluis, President of HMS. "The Accruals Module will allow TimeControl administrators to automate functions such as banked time or calculated overtime and more. Version 6.8 also includes added functionality to Expenses and Timesheets to allow you to insert your own documents (such as receipts) and a new Menu Editor that gives you even more flexibility over the TimeControl menus!"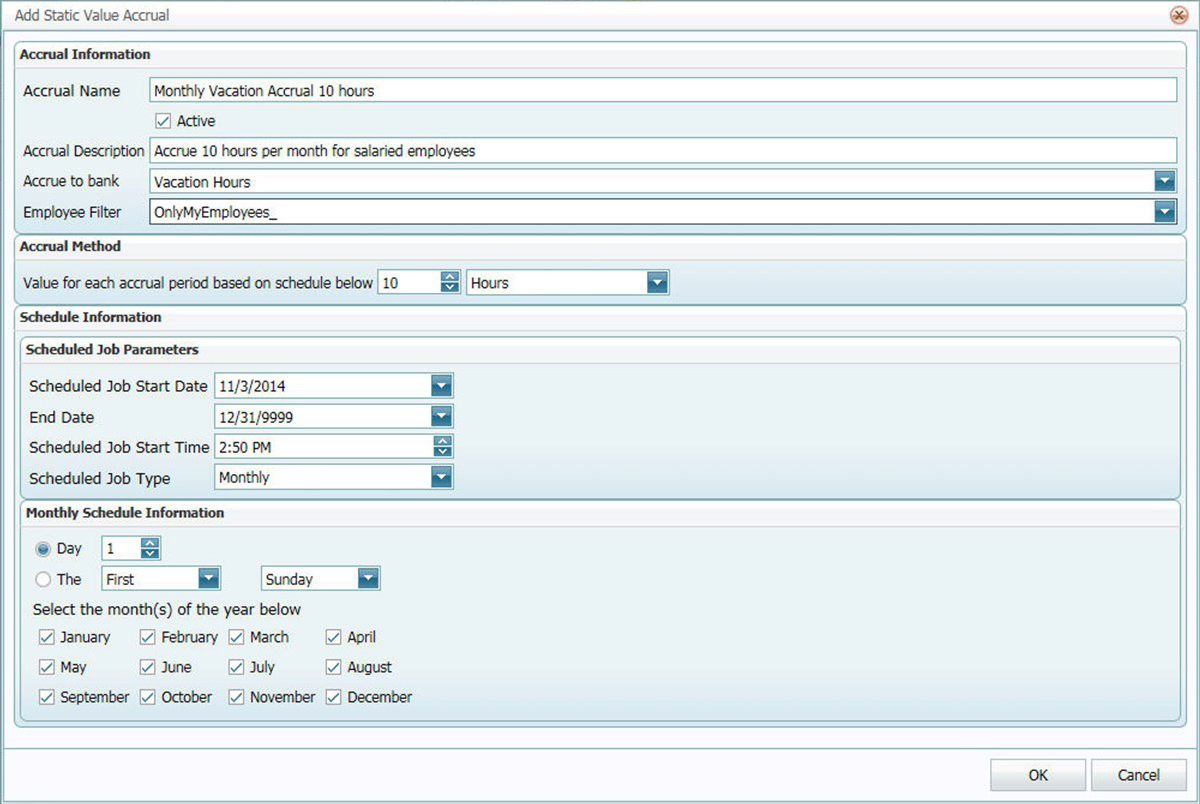 TimeControl 6.8 includes a wide range of new and enhanced features. Some of the most notable improvements include:
Accruals module
TimeControl 6.8 includes a new Accruals module which allows Administrators to create a rules-based accrual of time into different elements of TimeControl tables. There are 4 different types of Accrual rules now possible:
A scheduled rule that is based on static values in the employee tables

A scheduled rule that is based on values in the timesheets being posted

A rule executed during posting that is based on the timesheet values

A scheduled rule that looks at rate-code values
TimeControl menus now editable
TimeControl has always allowed items in the menu to be secured using User Profiles. Now, with TimeControl 6.8, administrators are able to add their own menu items directly to the TimeControl menu using the Menu Editor or move existing items from one tab to another to match their own requirements.
Add receipts to an expense line item
TimeControl 6.8 allows multiple files to be uploaded and saved within each expense line item or to the entire timesheet. An unlimited number of scanned or photographed documents can be attached to expenses and saved with the Expense Line or at the timesheet level. This will likely be most popular for those who need to attach receipts to their TimeControl expense reports.
Clickable dashboards
As of TimeControl 6.8, on dashboard elements where appropriate such as the Personal Status view, users are able to click on a link which will bring them directly to the appropriate area or element of TimeControl.
Filter resources during Project Management import
TimeControl 6.8 allows the project manager to set a filter to not transfer certain resources from the project management system. This could allow hiding certain types of resources such as generic resources from being automatically added to the TimeControl Resource Table.
There are many more enhancements to TimeControl in this release. Existing clients with an active support contract or a subscription to TimeControl Online will receive the new version at no cost. Find out more about TimeControl 6.8 at www.timecontrol.com/features/latest/6.8 or talk to HMS about your timesheet needs at www.timecontrol.com/contact or info@hms.ca.
---
About TimeControl
TimeControl was originally released in 1994. It was immediately successful in the project management sector and today is recognized not only as a project management solution, but also as an enterprise timesheet solution in use by companies worldwide. TimeControl is designed as a multipurpose timesheet able to serve the needs of both Finance and Project Management simultaneously. It includes features such as a multi-browser, multi-device interface, a PC and mobile interface, vacation approvals, executive dashboards, extensive approval functionality, flexible reporting and links to project management and corporate systems which makes the timesheet product ideally suited for integration with existing systems in any organization. TimeControl's flexibility allows it to be deployed for use as a time and attendance, time and billing, project tracking and flex-time system. TimeControl is available both for purchase for an on-premises installation or as an on-line subscription in the Cloud.
To access the free Hosted TimeControl Trial site, visit our free trial page.
For more information about TimeControl, monitor the TimeControl blog at http://blog.timecontrol.org/ or the TimeControl website at www.timecontrol.com.
For information about TimeControlOnline, our hosted timesheet subscription service in the cloud, go to www.timecontrol.com/features/timecontrol-online.
For any other questions, please contact HMS Software at info@hms.ca.
TimeControl is represented around the world by our distributors in Argentina, Australia, Brazil, Canada, Chile, Croatia, Czech Republic, Egypt, Finland, Ireland, Mexico, the Netherlands, New Zealand, Norway, Russia, Singapore, Sweden, Thailand, the UK, and the U.S.
About HMS Software
Based in Montreal, Canada with offices in Toronto, HMS Software has been a leading provider of project management and enterprise timesheet systems and services since 1984. HMS Software's first customized timesheet application was written in 1984. With the launch of TimeControl as a commercial application in 1994, HMS Software began servicing clients worldwide.
HMS Software's client list reads like a who's who of business. It includes Acergy, Aecon, Rio Tinto, the Atlanta Airport, the City of Montreal, the County of San Mateo, Electromotive Diesel, EXFO, FT Services, Kelly Services, Koch, Merck Frosst, the Government of Quebec, Georgia Pacific, Parker Hannifin, Rolls Royce, Sobeys, Volvo Novabus, Zimmer Inc. and hundreds of others.
For further information about HMS Software, please visit the HMS website at: www.hms.ca or contact us at info@hms.ca.
---
For Media information, reach out to HMS Software Marketing at: