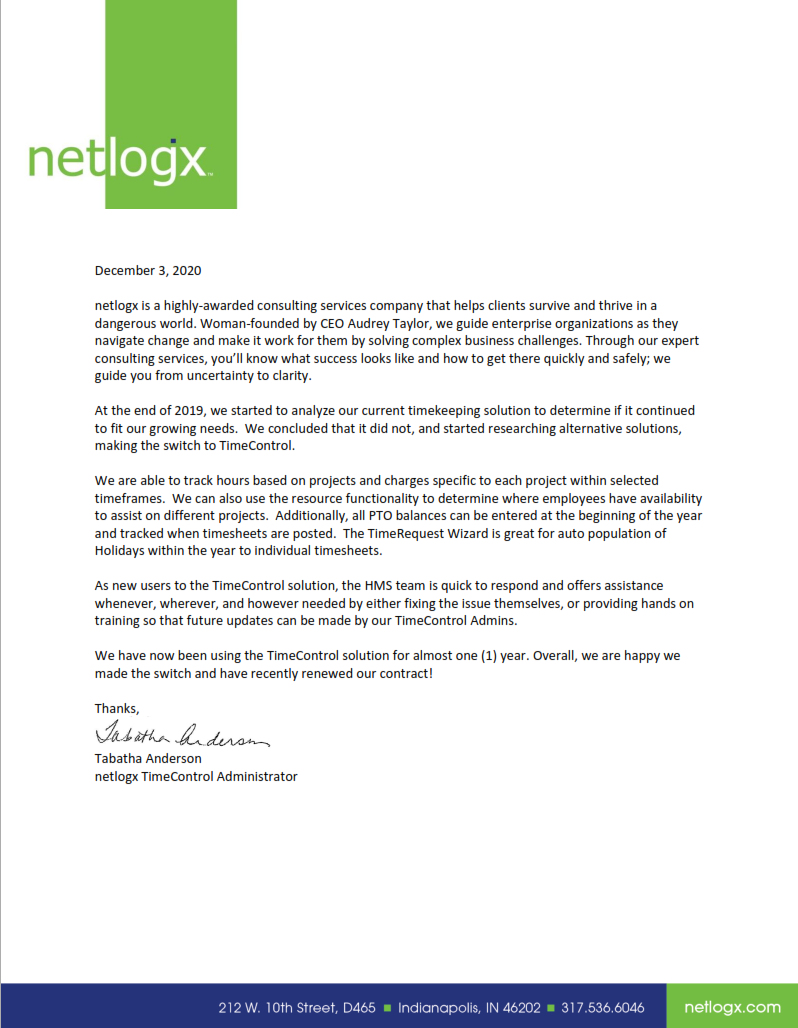 ---
netlogx
December 3, 2020
netlogx is a highly-awarded consulting services company that helps clients survive and thrive in a dangerous world. Woman-founded by CEO Audrey Taylor, we guide enterprise organizations as they navigate change and make it work for them by solving complex business challenges. Through our expert consulting services, you'll know what success looks like and how to get there quickly and safely; we guide you from uncertainty to clarity.
At the end of 2019, we started to analyze our current timekeeping solution to determine if it continued to fit our growing needs. We concluded that it did not, and started researching alternative solutions, making the switch to TimeControl.
We are able to track hours based on projects and charges specific to each project within selected timeframes. We can also use the resource functionality to determine where employees have availability to assist on different projects. Additionally, all PTO balances can be entered at the beginning of the year and tracked when timesheets are posted. The TimeRequest Wizard is great for auto population of Holidays within the year to individual timesheets.
As new users to the TimeControl solution, the HMS team is quick to respond and offers assistance whenever, wherever, and however needed by either fixing the issue themselves, or providing hands on training so that future updates can be made by our TimeControl Admins.
We have now been using the TimeControl solution for almost one (1) year. Overall, we are happy we made the switch and have recently renewed our contract!
Thanks,
Tabatha Anderson
netlogx TimeControl Administrator
netlogx.com
212 W. 10th Street, D465
Indianapolis, IN 46202
317-536-6046