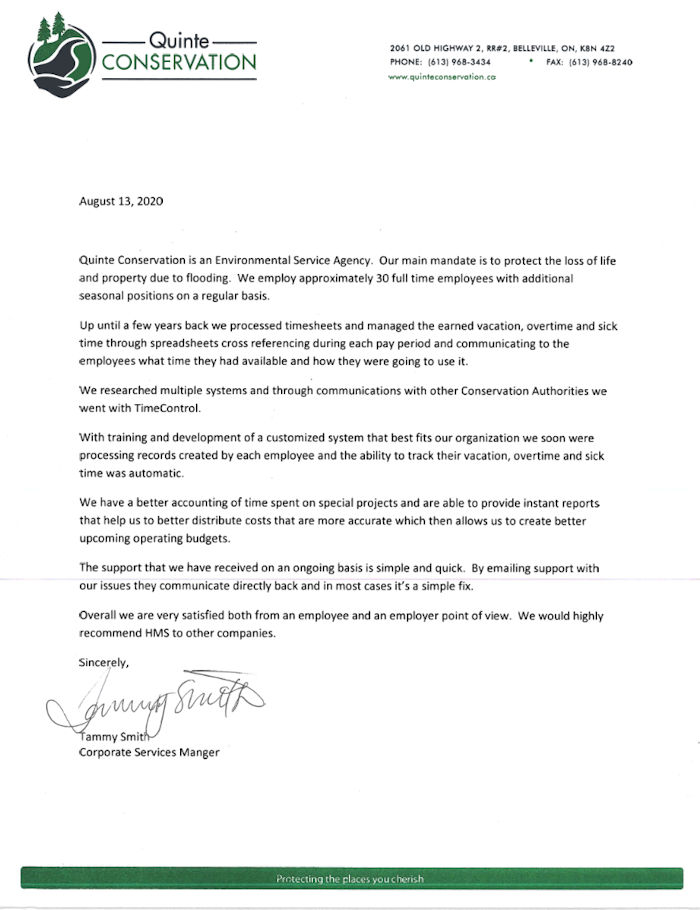 ---
Quinte Conservation
August 13, 2020.
Quinte Conservation is an Environmental Service Agency. Our main mandate is to protect the loss of life and property due to flooding. We employ approximately 30 full time employees with additional seasonal positions on a regular basis.
Up until a few years back we processed timesheets and managed the earned vacation, overtime and sick time through spreadsheets cross referencing each pay period and communicating to the employees what time they had available and how they were going to use it.
We researched multiple systems and through communications with other Conservation Authorities we went with TimeControl.
With training and development of a customized system that best fits our organization we soon were processing records created by each employee and the ability to track their vacation, overtime and sick time was automatic.
We have a better accounting of time spent on special projects and are able to provide instant reports that help us to better distribute costs that are more accurate which then allows us to create better upcoming operating budgets.
The support we have received on an ongoing basis is simple and quick. By emailing support with our issues they communicate directly back and in most cases it's a simple fix.
Overall, we are very satisfied both from an employee and an employer point of view. We would highly recommend HMS to other companies.
Sincerely,
Tammy Smith
Corporate Services Manager
Quinte Conservation
2061 Old Highway 2, RR#2, Belleville, ON, K8N 4Z2
CANADA
www.quinteconservation.ca