Automated Timekeeping Provides a Major Pipeline to Increased Productivity at Aegion Corp.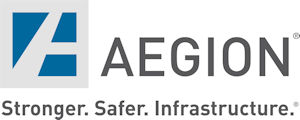 "TimeControl has allowed our employees to focus on getting their work done rather than chasing after administrative tasks and wasting valuable time and resources."
When it comes to maintaining infrastructure, Aegion Corp. knows how to keep things flowing. For more than 45 years, the Missouri-based company has been a global leader in rehabilitating, maintaining and improving pipelines, extending their life by applying innovative technologies and services. Through its Insituform® Technologies subsidiary, which has locations across North America, it has renewed thousands of wastewater, sewer and stormwater pipelines beneath busy highways, bridges, airports and military installations.
On any given day, roughly 70 Insituform crews are deployed in the field to perform extremely detailed work, one pipe segment at a time. Crews typically consist of four to five skilled technicians and a foreman and are led by a superintendent.
"We schedule every crew we have, including every single activity that takes place, the materials used to complete those activities, and the time it takes," said Insituform Vice-President, Project Management Scot Pearson.
Up until 2011 the company was using a homegrown computer system to manage time spent in the field. Crew members filled out paper-based timesheets and the data was then entered manually into a project portfolio management system, a corporate payroll system and other corporate systems as required, leading to a situation that was a bit like a "free-for-all so we really didn't get great data," said Pearson.
As part of a business improvement initiative, the company started to look for a solution that would help to optimize its labor resources. Primavera P6 was brought in to enhance project planning and scheduling, but Primavera didn't have a time keeping tool that fit our needs.
"We realized we needed a new timekeeping solution that would help us to not only keep track of time spent on projects but would also allow us the opportunity to record effort and production in the field itself," said Aegion CIO Thys Lourens.
TimeControl 'fits like a glove'
The two topmost features required in a new timekeeping system – and key to Aegion's selection process – were the ability to integrate with Primavera P6 and to provide crew-based timekeeping functionality. In addition, the company was looking to record material usage and equipment allocation at the activity level and needed a better way to keep track of production figures on the job.
As Lourens explained, when time was recorded on paper, "labor against jobs" data would be keyed into the company's JD Edwards enterprise (JDE) resource planning system manually to support payroll, job costing and other scheduling activities. The company needed a more streamlined way to collect more accurate data.
"We were looking for a solution that really fit our day-to-day business needs in terms of allowing a crew leader to enter time on behalf of the entire crew, but we also needed to support our tightly integrated business processes and practices at the same time," said Lourens.
Aegion found a solution that "fit our needs like a glove" in the TimeControl® multipurpose timesheet platform published by HMS Software. He said, "We went all in from the start in terms of how we wanted the software to work and to integrate with Primavera P6 and our other systems. It was a big game changer for our users."
Timekeeping efficiency vastly improved
TimeControl software is installed on a dedicated server in the corporate Aegion data center in St. Louis, Missouri, and accessed by employees through the company's virtual private network. Each day, superintendents enter time on behalf of their crews, using the software to track time against tasks.
"Superintendents simply go through and select the crew member and the task and input the hours. They can also add information related to weather days, per diem allowances, resources used and other specifics as required," said Insituform Training Specialist Lisa Hopp, noting that TimeControl is extremely easy to use, even for those users who aren't very comfortable on computers.
"All project information is automatically loaded from Primavera P6, so they don't have to remember project numbers and they can see a week's worth of tasks at a glance," she added.
TimeControl is also used by 50 field engineers who enter their time individually and by 40 project managers who are responsible for approving time spent on projects. Additional users include payroll and accounts payable specialists, site administrators and project schedulers. Hopp is the TimeControl "super user" responsible for training and administrative tasks related to the software.
Since installing TimeControl in 2014, efficiency in timekeeping has been the biggest gain. She explained, "We saw a 100 percent upgrade on the efficiency side when we started to use this software," Hopp said. "When we had a manual system, paperwork would sometimes get lost and I used to spend 80 percent of my time on timekeeping duties. Now I'm free to focus on other important work."
Visibility into time data fuels constructive change
On the business side, tight integration between TimeControl, Primavera P6 and JDE means information is constantly flowing back and forth to keep users up to date and monitor whether project milestone dates and times are being met. Timekeeping data is also entered into the corporate data warehouse to support in-house business intelligence activities, enabling business users to run extremely detailed reports.
"Sometimes our audit or payroll departments will need time pulled and I can go right into the system – everybody's time is in the same place and there's no need to access multiple systems," Hopp said. "We have explored other avenues and, in my opinion, TimeControl is the best crew-based timekeeping system out there for our business needs."
More accurate timekeeping data means Aegion is gaining better visibility into what causes delays and overages on projects. Since installing TimeControl, management has taken "corrective action, changed some processes and procedures, and further improved business processes," Lourens said.
For example, access to more detailed data enabled the company to see that some delays were due to sites not being ready when crews arrived to perform work. Once the problem was identified, they were able to introduce a site readiness checklist that now needs to be completed before crews are dispatched.
From the project management perspective, Pearson said TimeControl enables the project managers to get detailed data pertaining to every pipeline segment installed – the length between manhole covers – to compare the estimated length and hours required to perform work against the actual length and hours logged.
"Within a matter of seconds, anyone can look at every line segment installed, how many labor hours crews were over or under budget and see all of the metrics we use to judge crews for future estimating purposes," he said. "We're seeing productivity and efficiency improvements because we have the information available to more accurately measure our performance over time."
Productivity is up and efficiency is greater
The benefit of having a much more streamlined, automated approach to collecting and analyzing timekeeping data is that Aegion continues to make "huge process improvements," Lourens said. On the corporate side, tight integration with Primavera P6 and JDE means managers can look at tasks from a timeline perspective to determine if customer commitments are going to be met. They also have a better window into job costing and estimating.
In the field, there's no more need for paper and superintendents simply log into TimeControl to capture activity as it happens. "You know the crew that's working, the work that's scheduled for that day and the equipment or resources allocated, and you can immediately and accurately capture the information right there at the source as it happens," Lourens said.
At the same time, the risk of error is greatly reduced and there's less opportunity for "bad practices," such as accidentally charging time to a project that is already complete. "TimeControl locks it down so you can't go outside of the guidelines and put your time to things you're not supposed to be charging time to,' Lourens explained, emphasizing that productivity is up and efficiency is greater as a result of TimeControl.
Right now, crew superintendents are using desktop or laptop computers to access TimeControl but Aegion plans to move to a mobile version once crew-based functionality is available.
"TimeControl has allowed our employees to focus on getting their work done rather than chasing after administrative tasks and wasting valuable time and resources," Lourens said. "It has put the focus on revenue-generating tasks rather than administrative overhead."
For more information about TimeControl, please contact: www.timecontrol.com/contact or info@hms.ca.
For more information about Aegion, please contact www.aegion.com.